Image by Dan/Kelli Oakley from Pixabay
Among the elderly, loneliness is an epidemic.
Statistics show that about 50 percent of nursing home residents have no relatives, and 46 percent have no living children. By some accounts, as many as 60 percent have no visitors.
Kathy Rogers, vice president of Marston Rogers Group, witnessed the problem firsthand in 2013, when her mother, Sybil Piggott, was injured in a fall and spent 30 days recovering in a local nursing home. Although she and other family members visited often, her mother's emotional state suffered greatly. When her husband, Lee, came to visit, he took the time to talk and joke with residents who were sitting in the hallway — noticing how much the interaction lifted their spirits.
"When we were looking for a way for our business to give back to our community that aligned with our heart and values, we decided we wanted to do something for the residents of local nursing homes," Rogers says, "and Adopt A Grandparent Day was born."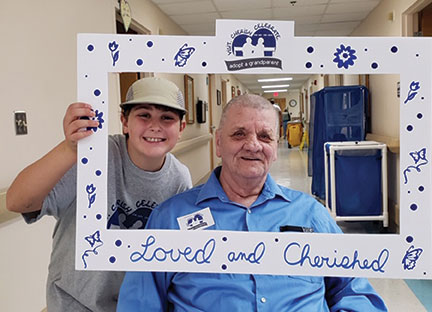 The initiative, launched in 2014 and observed on the Saturday before National Grandparents Day, is meant to recognize and honor the value of the elderly in society and to provide them with love and affection. This years Adopt a Grandparent Day falls on Sept. 7.
Past volunteers have included men and women of all ages from all walks of life, including military families, church groups, school clubs, Girl Scout troops, and individual citizens who desire to make a difference. In its first year, Adopt a Grandparent Day drew 326 volunteers, who visited 18 nursing homes in Harrison, Hancock, and Jackson counties. Last year, roughly 1,500 lives were impacted as volunteers visited residents of 33 nursing homes in Harrison, Jackson, Hancock, Stone, Pearl River, and George counties.
Rogers says the continued work of AAGD "brings me great satisfaction" and shows that she can make a difference in the lives of both the young and the old.
"AAGD helps people, especially young people or those who are not close to (an) older relative, recognize the value of the elderly and what impact a visit, a smile or a simple conversation can have in the lives of the elderly and in (their) own lives," she adds. "Our goal is for people to make a connection and go back to visit on their own."
For 2019, 800 volunteers are needed, and online registration opens on Aug. 2 on adoptagrandparentday.org.
To learn more, email adoptagrandparentday@gmail.com or call (228) 206-5902.

Writer for Gulf Coast Woman Magazine.